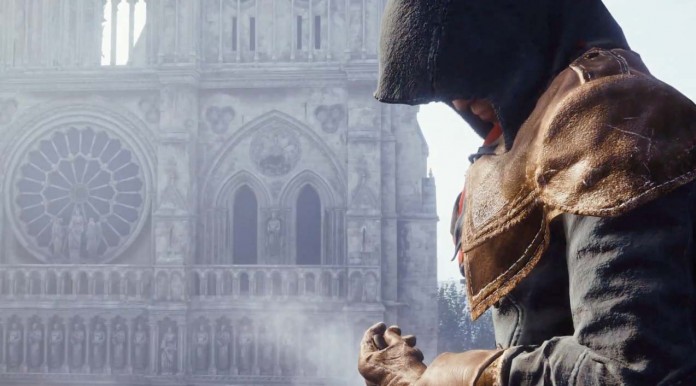 Every year's Assassin's Creed game gets a fantastic Cg trailer, and Unity is no exception. This year's trailer features the four assassins we saw earlier today at Microsoft's presser, again helping the revolutionaries get an aristocrat. They also announced that the game's base progression will be different. A mission was demonstrated where a target was given, and instead of being locked into that objective the player walked away, preferring to take the target at a different time. Wile he strolled the streets the assassin picked up side quests, explored buildings and searched for more info on the target.
The gameplay showed some new traversal mechanics, like jumping from the series high vantage points to poles on a building and swinging off of them. After finally tracking down his target, the assassin took time in determining his approach, maneuvering around and above his location to see which best suited his intended strike. After striking down his target and facing a wall of guards, the player is backed up yet again by his three friends. The demo ends, and it feels to me like Assassin's Creed is trying to return to it's roots. Be the judge yourself, and check the gameplay and trailer below.
CG:
Gameplay:
For all the E3 goodness, check Vgamerz News hub.
Comments
comments