For anyone unaware, Square Enix has made another Final Fantasy MMORPG called Final Fantasy 14 (FF14). The game had a horrible start but has redeemed itself in the eyes of the community with the release of A Realm Reborn. FF14 is on the verge of it's next expansion StormBlood which will be released on June 20th, 2017. While we are waiting for the end of the current expansion, Heavensward, players have Patch 3.5 The Far Edge of Fate to hold us over.
1
Quality of Life Changes Rule the Patch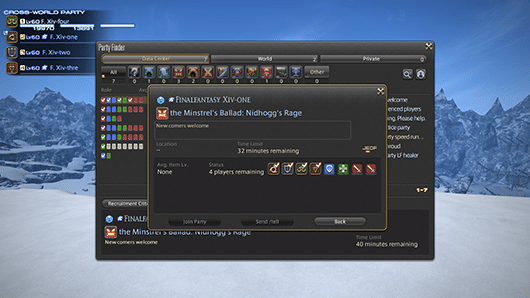 Cross Server Party Finder Changes the Game
I was going to start with the new raids that were introduced but that would be doing a disservice to the HUGE quality of life (QOL) changes we got this patch. The first, and biggest game changer was the implementation of the Cross Server Party Finder. Most of the instanced dungeons help players find companions across the data centers via Duty Finder (DF) to complete content. A few patches ago they added the Raid Finder (RF) for the 8 man raids, Alexander, and extreme Primal/Eikon fights, Sophia, Zurvan, Niddhog, etc. That was a great addition but it was not stopping the frequent server migration that started in Patch 3.1 of players looking for more people to "play" with.
The main reason why this is important is because the old school Party Finder (PF) allowed for players to form groups to enter content. If a player was on a smaller server the likelihood of finding other like minded players was very slim. Even my mid to smallish server of Brynhildr on Primal Data Center had 5 to 8 PF groups up nightly during peak times. Since the patch, released Tuesday, the PF groups have jumped up to 30 or 50 because it reaches across the whole data center. There are some other elements that go with it so you can read up on that in the linked patch notes.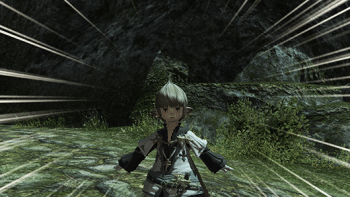 Group Pose Gets Some Upgrades
For the photographers in game, they added and expanded the group pose camera options. Players can now changed the lighting, add effects, filters etc to their photos. Players can also take close up shots and get their favorite NPCs in on the picture. I don't take many in game shots but it was cool to see added.
Egi Glamours Are Finally Released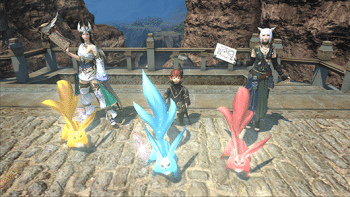 One of the last things I will highlight is the implementation of Egi-Glamours for the Summoner Job. Egi's are the FF14 version of pets. The players have been requesting this since the beginning of Heavensward so now the pets can return to their Carbuncle forms.