2
 Goodbye Free Trade – January 2008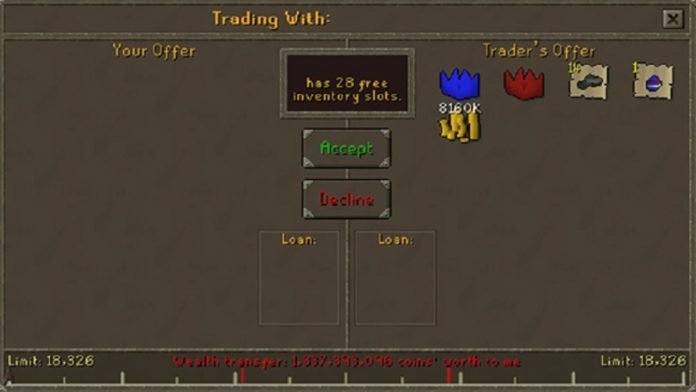 Whilst one development team worked on Bounty Hunter, another worked on improving RuneScape's trading system. At its most basic, RuneScape's trading is brilliantly simplistic. Players select what they want to trade, review if they agree with the trade and finally confirm the transaction. RuneScape's trading even gives players multiple confirmation screens to counter potential scamming.
Unfortunately, Jagex did not feel that the system was doing its job well enough. They wanted to kill off real-world trading for good. The aforementioned PvP changes had been introduced a month prior. It was now time for Jagex to give free trade the noose too.
A trade limit was introduced to prevent uneven trades ever happening again. Jagex's idea was simple. If players couldn't trade valuables to other accounts without receiving a fair fee back, scamming was no longer possible. Technically, they were right. This even had the nice side effect of minimizing account hacking too. After all, why would people bother hacking accounts when they can't transfer items?
From the community's point of view, these benefits did not outweigh the negatives. Just like the PvP changes, Jagex was taking away player freedom to prevent a tiny percentage of scammers. Whilst problematic, no one asked for Jagex to act this aggressively. At the end of the day, those that get scammed are probably to blame.
Player naivety is the primary cause of scamming and hacking. Surely teaching players about account security was a better option. Hilariously, Jagex apparently agreed. Just two months after this update, the Stronghold of Player Safety was released. Despite this, they would not remove trade limits until February 2011.