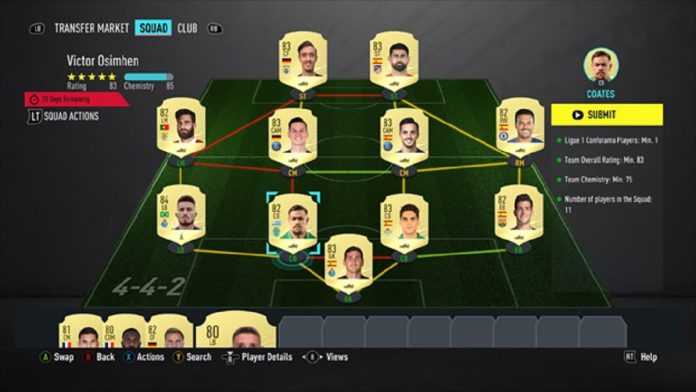 Since their introduction in FIFA 17, Squad Building Challenges have consistently been Ultimate Team's best feature. The core premise has players build teams that fit specified criteria. For example, you could have to put together a team that features at least 3 rare silvers and 7 Premier League players. Later SBCs get more complex and can require several teams built to acquire a special one-off card or pack.
SBCs are a brilliant feature that allows for non-meta cards to gain and retain value. Case in point, I recently sold a 74 rated Opara for 5k coins. Not bad for a random silver card who no one wants in their actual squad. These challenges also provide an excellent gameplay option for those not into the competitive side of FIFA.
It's no secret that FIFA can be a very stressful game to play. Even before the gameplay problems I've outlined, past titles could still be infuriating. In previous years single-player modes like Career Mode and Squad Battles could alleviate some of this stress. These were good options for players looking for a more casual FIFA experience.
However, in FIFA 20 I found SBCs fill this role instead. Coming up with a complex solution on your own to get a quality pack or player is very satisfying. You're not rushed by anything or anyone and can take your time to lay out all the options you have.
Meanwhile, single-player matches are surprisingly stressful this year. Especially when you begin playing on World Class or above. The A.I use sliders to make both their overall and chemistry not mean all that much. They also play incredible tiki-taka, possession play as they flawlessly pass around you. Only true masochists should even attempt Ultimate difficulty.