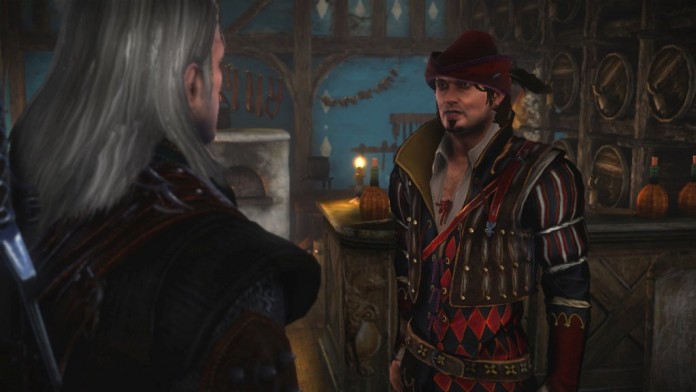 Witcher
Dandelion is a world famous bard and is the main protagonist Geralt of Rivia's best friend and confidant. They first met at a fête in Gulet when he became a companion to Geralt (who welcomed this as he had been alone for a while) when Dandelion had to leave witcher Gulet as fast as possible – because he 'knocked up' a girl under the musician's podium and she had four sturdy brothers who were threatening to geld, and cover him in pitch and sawdust.
Dandelion is a graduate, and later on, professor of Oxenfurt Academy. He only taught at there for a year and rarely visits Oxenfurt, although he still does from time to time to give guest lectures, because he is off travelling the Northern Kingdoms as a minstrel and garners a world famous reputation for doing so in the years to come. He also get's caught up in many of Geralt's adventures, and he also acquires his favourite lute on these adventures. During the short story, 'The Edge of the World', Dandelion and Geralt are captured by a group of elves and one of them, Toruviel, breaks Dandelion's lute, much to his dismay. Awaiting his death, Dandelion faints. While he is out the Queen of the Fields appears and communicates with the elves telepathically and tells the elves to not kill them. Dandelion receives a few slaps to wake him up but no other harm befouls him that day. As the elves are leaving Toruviel gives Dandelion a new lute, which becomes his favourite one.
He possess an incredible ability to always find himself in trouble. Of course most of the trouble he get's himself into is self inflicted, and normally involves a woman. His profession goes hand in hand with his favourite pastime, womanising. Being a bard get's him in a lot of positions to seduce women, and he never misses the opportunity. When in Flotsam in The Witcher 2: Assassin's of Kings, he was about to be hanged for debauchery (excessive indulgence in sex, alcohol, or drugs) and burning down a building until Geralt saved him.
One of his best traits as a human is that he harbours no ill will towards elves or dwarves, and that's a very rare trait throughout the Northern Kingdoms, with non humans and humans at each others throats for many years. Some of his best friends are non human, including Zoltan Chivay.
He is known for many ballads, but his most famous by far is The Lion Cub of Cintra. This is about Ciri and the events that transpired during the Slaughter of Cintra. This too got him in to trouble, as he was attacked by someone attempting to get information out of him about Ciri, until Yennefer stepped in and saved him. He uses Geralt, Yennefer, Ciri and other people he knows and the adventures he's been on as inspiration for the songs he writes.
1
Dandelion in The Witcher (Spoilers)
Dandelion does not appear into the first game until the second chapter, at a party which Shani throws to celebrate his arrival into town. This is the first time he's seen Geralt since he 'died', and Geralt doesn't remember him due to his amnesia, but Dandelion recalls some of Geralt's past for him.
Dandelion asks Geralt to recover his lute which he left in one of his young, female music student's bedroom. Oh Dandelion. He can't go and get it himself as the girls father is there too, and he isn't very happy. Dandelion needs his lute as he is performing a concert later that evening, and won't be able to without his lute. He also accompanies him on various missions throughout the game.