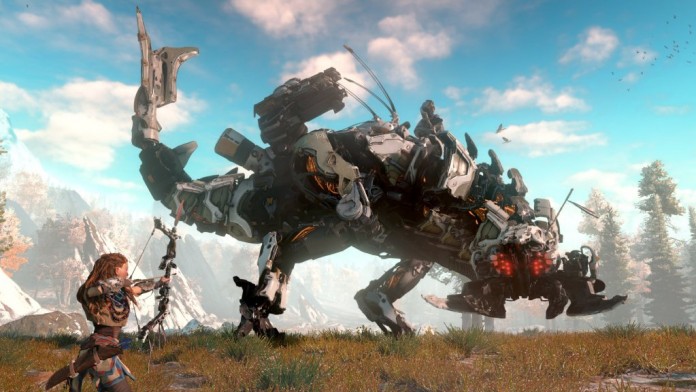 Horizon Zero Dawn blew my mind when it was shown off for the first time. Seeing an incredibly lush and beautifully unique environment filled with bizarre robotic dinosaurs and tribal warriors made my mind wander endlessly about what would be possible in such a creative world.
it seems so obvious to pair technology with the past as they're doing, yet this is the first time we've seen it done in such a way and it's inspiring at the very least.
The thing about Horizon, though, is that the more we see, the more the doubt drips in. Those amazing looking flat-headed dinosaurs filled me with curiosity. Yet, when they were revealed to be awful Ubisoft towers that unveil the map piece by piece, it just opened the floodgates for what kind of game this is.
Why do I want to unlock sections of a map in such an archaic, counterintuitive sort of way when I could instead explore for myself and allow my own curiosity to fuel the things I discover? I hate the fact that at the end of the day, this game looks like yet another open-world action game with slight RPG elements that takes way to many ideas from the exceptionally tired Assassin's Creed franchise. Couple all of that with the fact that what we've seen in the actual RPG and crafting systems looks to be very similar to every other open-world crafting RPG. How many hours will I spend gathering flowers and other weird herbs?
Horizon was supposed to be different, yet everything we're seeing says it isn't, at least, not mechanically. It also doesn't help that it will be written by Guerrilla Games, who have yet to actually make a great story in any of their past projects.